COMPILATION
Full Title:
Self-titled on recto of front cover. No separate title page.
Front cover recto: [all enclosed is series of decorated borders]
[on black ground] TWENTY-TWO PLATES FROM | CABELL'S JURGEN |
[surrounding a central illustration of Jurgen and Nessus]
JURGEN
U E
R S
G S
E U
NESSUS |
[on black ground] A.D. ENGRAVED BY 1929 | SAM'L OGDEN JNR. (see image above).
Front cover verso: blank.
Publication:
N.p.; 1929. No copyright notice. Appears to be self-published by the artist.
Collation:
Loose leaf folio. Pinkish tan card front and rear covers [ 35.2 cm. (13⅞ in. x 27.6 cm. (10⅞ in.)]; 22 prints on individual laid paper sheets [ 33 cm. (13 in.) x 25 cm. (9⅞ in.)], printed on verso only. Paper is watermarked "chanticleer", made by the Fox River Paper Company.
Binding:
Twenty-two loose leaves with front and back covers (see images above).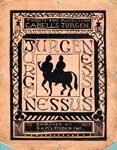 The Silver Stallion has only recently discovered this work, and we are still researching in an effort to learn all we can about this piece. An internet search has not located an artist named Samuel Ogden who was active in 1929. So far, the only Cabell reference we've found that mentions him or this set of engravings is Maurice Duke's James Branch Cabell's Library: A Catalogue, Hall F6. The listing reads
| | | | |
| --- | --- | --- | --- |
| Ogden, Samuel R.    | 0039 | Twenty-two Plates from Cabell's Jurgen, NC975.5.O34A4 1929 | Duke Supplement |
| | 0040 | Reviewer, AP2.R45 v.1 no. 1-12 | Duke Supplement |
According to the library's catalogue entry, VCU holds two copies, one of which is in a dropdown case with leather spine, inscribed to Cabell, with each plate signed by the artist. We hope to have scans of this copy soon.
The man who sold us the copy shown above said that there is another set in the University of Virginia's Clifton Waller Barrett Library archive of Frank Cheyne Papé, "Papers of James Branch Cabell," and we will be contacting them too.
Clicking on the thumbnail at left will allow you to access a PDF of the entire set of drawings. As usual, you'll need to use you browser's BACK button to return to The Silver Stallion after accessing the document. If you turn on "bookmarks" in Adobe Acrobat when viewing the document, you will see our description of each scene. The page numbers listed refer to corresponding pages in the Storisende edition of Jurgen, Jur-E1 (S).