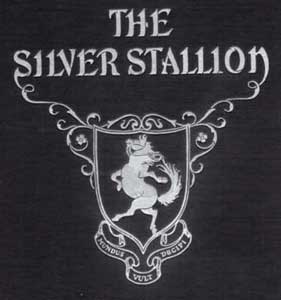 Welcome to the Silver Stallion
The Silver Stallion: The James Branch Cabell Website

Some Jurgens and Cabell
In July of 2018 we celebrate a very important date in Cabellian history.  This month is the 100th anniversary of the first publication of the short story "Some Ladies and Jurgen", Brewer 245, in the July 1918 issue of The Smart Set, the magazine edited by Cabell's friend H. L. Mencken. This publication led to a profound change in Cabell's reputation, fortunes, and life.  It is sometimes suggested that the novel Jurgen, published a little more than a year later, is merely an expanded fix-up of the Smart Set story (it did after all incorporate Cabell's early story "An Amateur Ghost") but an examination of early materials relating to the story and novel show that the situation is more nuanced. So here, for your delectation, are presented four texts that recount different aspects of the high history of Jurgen. Oh, and of course a reproduction of the story itself as originally published…
First is an excellent article by Kalki editor Paul Spencer that recaps the evolution of Jurgen based on Cabell's accounts, as well as providing an illuminating comparison of key features of the story and the novel. (This first appeared in Kalki Vol. VII, No. 2 (1976), pp. 51-57).
Next is a letter from Cabell to his friend the critic Burton Rascoe (to whom Jurgen was dedicated) describing the intertwined steps in the composition of the story and the novel. (Letter of 10 August 1919 from Between Friends (1962, Hall A34), pp. 126-128. This letter was previously published, slightly abridged, in Burton Rascoe's Prometheans (1933, Hall A22), pp. 283-286).
Then there is Cabell's preface to the Storisende text of Jurgen in which he records his rough notes for the novel as they first occurred to him partway through the composition of the story. (From James Branch Cabell, Works, Vol. VI (1928, Jur-E1 (S)), Jurgen, Author's Note, pp. xi-xxi, although the scan we show here is actually from the textually identical "Red Storisende" issue of this edition (1932, Jur-E2 (RS), simply because we like its Papé dust jacket).
And finally we have Cabell's "Addenda as to Jurgen" in which the master, recollecting in tranquility, deconstructs his 1919 letter to Rascoe with amusing results and further details. (From Preface to the Past (1936, Pref-A1 (K)), pp. 254-262).
Thus it was in the old days. And now… "Some Ladies and Jurgen"!
Clicking on the images above will take you to each of the five documents listed above, ordered from left to right. The documents themselves are presented as PDF files. You'll need to use your browser's BACK button to return to The Silver Stallion after accessing them.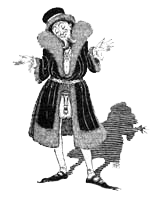 Our aim at The Silver Stallion is to provide an on-line meeting place for scholars, fans and collectors of the work of James Branch Cabell (1879-1958).  Cabell has been many things to many people: a crafter of magazine stories, a purveyor of ribald fantasies, a polemical belle-lettrist, a historical novelist, and a derided has-been; a constructor of dream-narratives, a revisionist historian, a memoirist; and a collector's dream -- and after his death a Southern allegorist, an also-ran Tolkien, and a literary suicide. He was brilliant and infuriating, versatile and repetitive, courtly and waspish,  eloquent and grandiloquent. On our website you'll find reflections of all these aspects of Cabell -- and more...  We offer reviews and essays, notes and queries; and a discussion group (Cabell's sources? Cabell's anagrams? Cabell's heirs? -- lets talk!) We've compiled a list of dozens of links to other Cabell and Cabell-related material on the internet.  We have pictures and biographical material. We plan to reprint choice pieces from the archives of the classic Cabell journals "Kalki" and "The Cabellian." And the crown jewels of The Silver Stallion are our series of Cabell bibliographies (still under construction, as, at the moment, is the whole site), profusely illustrated with hundreds of images, both rare and common, with comments on each book, including collecting 'points'.  Which Cabell do you favor? He's in here somewhere...
The Silver Stallion is a collaborative effort that depends heavily on the comments and contributions of our readers. We want and need your input. If you have information, photographs, or other data that you'd like to share, or if you have comments, questions or suggestions, please contact us at Webmaster.