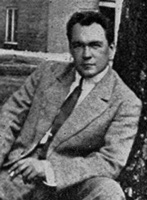 The Silver Stallion
James Branch Cabell: Pictures, Art and Photographs
In this section, we display contemporary and historic photos, drawings, artwork, cartoons, and other images related to James Branch Cabell that have been submitted by our readers.
Cabell Family Graves:
James Glanville has graciously allowed The Silver Stallion to use these photos of the Cabell family graves, which he took on 30 April 2010. Photographs © James Glanville 2013.
Photo Service File Photos
Shown below is a small group of photographs recently acquired by The Silver Stallion from a Photo File Service. These photographs would likely have been used in numerous newspapers, magazines, books, and similar publications. The second figure in the last photo is Sinclair Lewis.
Virginia Commonwealth University's Flickr James Branch Cabell Gallery
VCU Libraries have just posted a new Flickr Gallery of images of James Branch Cabell. There are 32 images in the gallery, and it's probably the most extensive collection of JBC images available anywhere.