Collation:
Single page broadside [60 cm. (22 inches) x 73.7 cm. (29 inches)], (verso blank); consisting of map (drawn by Peter Koch), single line subscript: PUBLISHED BY ARGUS BOOKS - CHICAGO. © 1929 (see illustration above).
The scan of this map shown above was provided to The Silver Stallion by Mike Keith, from an original example in his collection.

The Koch Map Card Tables at the James Branch Cabell Room: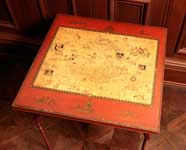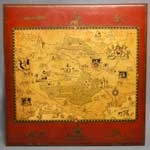 An unknown number of copies of this map were printed by Ben Abramson of The Argus Bookshop in Chicago. Two of these were beautifully incorporated into the tops of a pair of card tables presented to the author by a Cabell fan. Cigarette burns on one of the tables show that they were used by Mr. Cabell. These tables are now located in the the Cabell Room in the James Branch Cabell Library at Virginia Commonwealth University. Photos at left provided courtesy of VCU.