The Silver Stallion
James Branch Cabell : An Illustrated Bibliography
THE HIGH PLACE: A Comedy of Disenchantment.
With Illustrations and Decorations by Frank C. Papé
G.N. Gabbard, THE HIGH PLACE, and THE SHADOW OF ARVOR: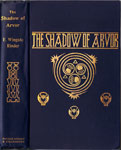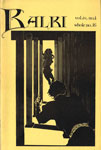 Anyone who reads The High Place immediately recognizes it as a fairy tale of sorts. In an article titled "Fairy Tales in The High Place", published in Kalki No. 16, G.N. Gabbard traces the fairy tale antecedents of Florian's misadventures. In particular, he ties it to the rather obscure tale of the wicked Prince Komorre, and draws on that story as told in Edith Wingate Rinder's THE SHADOW OF ARVOR: Legendary Romances and Folk Tales of Brittany, Patrick Geddes & Colleagues, Edinburgh, 1896. The image shown at right is not the first printing, but is instead a scan of the much prettier 1902 edition, also issued by Geddes.
The Silver Stallion has reproduced Gabbard's article as a PDF file. To read it for yourself, click on the cover of Kalki No. 16 at left. As usual, you'll need to use your browser's "BACK" button to return to The Silver Stallion.