COMPILATION
Full Title:
Title page recto: [in red] OF | ELLEN GLASGOW | [in black] AN INSCRIBED PORTRAIT | By | ELLEN GLASGOW | & | BRANCH CABELL | [device in red] | New York | The Maverick Press | 1938 (verso blank) (see image above).
Publication:
New York: The Maverick Press, 1938
Collation:
Thin octavo [20 cm. (7 15/16 in.) x 13.5 cm. (5 5/16 in.)]; grey deckle edged paper; (16)/(20)/(24) unnumbered pages (see A Note on Collation below). Page (1-2) blank leaf; (3) title page (verso blank); (5-6) text of The Inscription by Ellen Glasgow; (7) half title (verso blank); (8-14) text; (15) colophon; (15-16) blank leaf.
Wraps:
Grey Yapp edged paper, dark maroon lettering and decoration on front cover; top edged trimmed, otherwise untrimmed; tied with red thread. Front cover: Of | Ellen Glasgow | [device of JBC monogram] (see image above).
Envelope:
Along with the pamphlet itself, the printer provided two versions of the mailing envelope. One of these bore Cabell's address, the other, Glasgow's. The envelope at left above is the Cabell version, and was originally issued with the copy of OEG-A1 shown here. The second envelope, at right above, is the variation with the Glasgow address, and is from another copy (see images above).
Envelope recto: [13.9 cm (5½ in.) x 21.4 cm. (8 7/16 in.)] front issued blank for addressing
Envelope verso (James Branch Cabell issue): James Branch Cabell, 3201 Monument Avenue, Richmond, Virginia | [device of JBC monogram, in red - the same device used on the front cover]
Envelope verso (Ellen Glasgow issue): [in decorative italic] Ellen Glasgow, One West Main Street, Richmond, Virginia | [device in red - the same device used on the title page recto]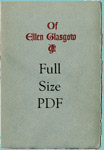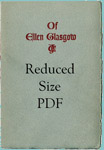 We are pleased to be able to provide a complete reproduction of this work, in PDF form, thanks to the generosity of Virginia Commonwealth University and Ray Bonis, Senior Research Associate, James Branch Cabell Library, VCU Libraries. Ray was kind enough to scan this work from a copy in the library collection and provide it to us here.
The work is reproduced here with the permission of The James Branch Cabell Associates.
Ray provided The Silver Stallion with a very high quality (and very large) Adobe Acrobat file in PDF format. This 32 mB file is available at far left, by clicking on the thumbnail marked "Full Size PDF". For the convenience of our readers who don't need this detail and don't want to download a file of this size, we have also provided a 6 mB version, accessed by clicking the thumbnail near left, marked "Reduced Size PDF". You'll need to use your browser's "Back" button to return to The Silver Stallion after accessing either of these files.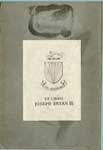 As can be seen from the address on the first envelope, this copy of this work originally belonged to Joseph Bryan III, a distinguished Virginia journalist and writer. A link to his entry in the on-line Encylopedia Virginia is here:
His bookplate, on the inside of the front cover, is shown at left.
The second envelope, with Glasgow's address, was originally presented to James Southall Wilson. He was, like Cabell, a distinguished alumnus of William and Mary, as well as a Professor of English at the University of Virginia, and the founder and first editor of the Virginia Quarterly Review.
A Note on Collation: Hall states that there are (24) pages, not (16) as noted by previous bibliographers. He conjectures that this difference is due to the presence of four blank pages before and four after the text. The Silver Stallion has collated two copies, and found one with (20) pages, and one that contains only (16) pages. Apparently the binder was not consistent in the number of blank leaves bound in before and after the text.