COMPILATION
Full Title (from slipcase labels):
The [in italic] Storisende Edition of | THE WORKS OF | JAMES BRANCH CABELL | [Kalki device] | IN NINETEEN VOLUMES (slipcases for vols. 1-9) /or/ IN EIGHTEEN VOLUMES (slipcases for vols. 10-18) | VOLUME | [3 titles listed, numbered by volume. Titles in all caps, subtitles in italic caps and smalls] | [[in italic] This is set number [number handwritten in red, over printed underline] | ROBERT M. McBRIDE & COMPANY | PUBLISHERS NEW YORK (see images above for all six labels).
Publication:
New York: McBride & Company, 1927 (Vols. I-III), 1928 (Vols. IV-IX), 1929 (Vols. X-XV), 1930 (Vols. XVI-XVIII)
Collation:
Medium octavo [23.5 cm. (9¼ in.) x 15.9 cm (6¼ in.)]; (collation varies by title, see individual title listings)
Binding:
Dark green cloth; gilt decorations and lettering on spine; top edges trimmed and gilded, otherwise untrimmed. Spine: [double rule] | THE WORKS | OF | JAMES | BRANCH | CABELL | [volume number] | [volume title or titles in one or more lines] | McBRIDE | [double rule]. Front cover: [all enclosed in a single line blind rule] [centered Kalki device in blind, enclosed in a double ruled circle in blind].
Dedication:
(varies by title, see individual title listings)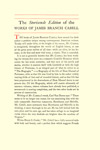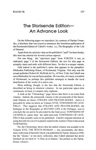 At far left is a scan of an original copy of the prospectus for The Works of James Branch Cabell. Near left, an article from Kalki No. 36 about the prospectus, which included a photographic reproduction of it. In the article, the author noted that the "publisher's" name was given as Methodist Publishing House, Richmond, Virginia, and questioned why a religious book dealer would be the publisher of this work. In the second copy, though, that line reads Peabody Book Shop, Baltimore, Maryland. Instead of stating the the publisher's name, this space was probably left blank, so that a seller could add his own imprint. Both documents are in Adobe PDF format. You'll need to use your browser's BACK button to return to The Silver Stallion after accessing them.
Dust jackets / Slipcases:
Individual volumes were not issued in dust jackets. Instead, each was wrapped in tissue and sealed. Early volumes in this set were sealed with adhesive paper dots, as shown above. Later volumes were simply sealed with adhesive tape. Slipcases were provided for each group of three volumes issued together. The slipcases were sturdy cardboard covered in forest green paper, each with a paper label (see images above).
The labels on the first three cases state that nineteen volumes were to be issued, as listed in the prospectus. The phantom nineteenth volume was to be Vol. VXII, a dizain titled The Witch Woman.
Notes:
The copy of The Works of James Branch Cabell illustrated here is no. 1586 of 1590. When the owner (Thorne) bought this set, many years ago, the seller claimed that this was McBride's file copy. There's no way to confirm this of course, but it's an interesting story, and who knows? It might even be true. In any case, matching numbered sets are less common than might be supposed. The books were issued three at a time, at three month intervals, by subscription. McBrides were supposed to keep track of each subscriber's set numbers and ensure that everyone got matching sets, but they appear to have been less than rigorous in this regard, because some subscribers are known to have wound up with non-matching sets.