Publication:
Never previously published; © James Branch Cabell Library, Virginia Commonwealth University, 2017. Used with permission.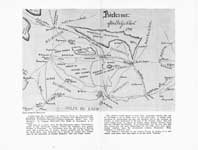 The text in Cabell's hand on the reverse is, in places, difficult to read, but it was copied, word-for-word, at the bottom of the map as published in 1925. For convenience, the published version of the map is available by clicking on the image at left.
We have provided the image in two sizes: a reduced size convenient for viewing on screen, and a "full size" image for downloading at a higher resolution.