Publication:
Kalki: Studies in James Branch Cabell, Vol. II, No. 4(a); Whole No. 8(a), 1968 (see illustrations above).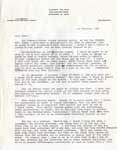 This map, drawn by Judith Ann Lawrence, Art Director of Kalki, was, like all maps of Poictesme, based on the Map of Poictesme drawn by James Branch Cabell and first published in 1925, Hall *G13 (A11). In this map, though, Ms. Lawrence included several regions and geographical features omitted from previous versions created by Cabell, Papé, and Koch, and corrected some errors found in the earlier efforts. These revisions and additions are detailed in William Atheling, Jr.'s introduction, which appeared on the page immediately preceding the two page spread of the map itself.
The letter at left, dated 24 February 1968, is from James Blish to Paul Spencer, who was then editor of Kalki. In it, he discusses what he hopes Lawrence's map will achieve, compared to the earlier attempts. As an aside, he also takes a swipe at The Cabellian - at this point the rivalry was in full swing!