James Branch Cabell : An Illustrated Bibliography
THE MAJORS AND THEIR MARRIAGES, with collateral Accounts of the allied Families of Aston, Ballard, Christian, Dancy, Hartwell, Hubard, Macon, Marable, Mason, Patteson, Piersey, Seawell, Stephens, Waddill, and Others
| | |
| --- | --- |
| Hall Code | Description |
| M&TM-A1 | First Printing, Roxbury Edition 1915 |
COMPILATION
Full Title:
Title page recto: The Majors and | Their Marriages | BY | JAMES BRANCH CABELL | With Collateral Accounts of the Allied | Families of Aston, Ballard, Christian, | Dancy, Hartwell, Hubard, Macon, Mar- | able, Mason, Patteson, Piercy, Seawell, | Stephens, Waddill, and Others. | [device] | [in italic] "Fortuna non mutat genus" | [device] | THE W.C. HILL PRINTING CO., | RICHMOND, VA. (see image above).
Title page verso: Copyright, December, 1915, | BY | JAMES BRANCH CABELL. (see image above).
Publication:
Richmond, Va.: Privately printed, December 13, 1915.
Collation:
Demy octavo [ 24.1 cm. (9 ½ in.) x 17.1 cm. (6 ¾ in.)]; pp. x + 188; Page (i) [all enclosed in single rule] [device] BOOKS BY MR. CABELL | [list of 10 titles in 2 sections, Genealogy and Fiction] | [device] (verso blank); (iii) title page; (iv) copyright; (v) dedication (verso blank); (viii-ix) Acknowledgement at Large; (x) Contents (verso blank); 13-188 text.
Wraps:
Brown or grey wraps; top trimmed otherwise uncut. Spine: [lettered vertically up the spine] THE MAJORS AND THEIR MARRIAGES. Front cover: The Majors and | Their Marriages | The Roxbury Edition | Price, $2.50 | [device] | This book can also be procured in the cloth- |bound Burlington Edition, at $3.50 (see image above).
Dedication:
TO | BALLARD HARTWELL CABELL | IN COMMEMORATION OF HIS CHRISTENING (see image above).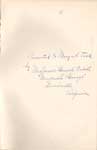 The Roxbury edition of The Majors and Their Marriages was the first of Cabell's books to be issued in wraps. Two hundred copies, unnumbered, were issued in this format.
Shown at left is the FFEP of the copy in brown wraps above. The inscription notes Mrs. James Branch Cabell's presentation of this copy to Mary A. Todd. Mrs. Todd was the Historian of the Daughters of the Revolution, one of the womens' groups that the publication of this work entitled Percy to join.