COMPILATION
Full Title:
Title page recto: JAMES BRANCH CABELL | JURGEN | EN KOMEDIE OM RETFÆRDIGHED | OVERSAT AF | [in italic] GUNNAR JUEL JØRGENSEN | [book device] | FORLAGET AF 1939 | KØBENHAVN (see image above).
Title page verso: Andersen & Petersen.Kbhvn (see image above).
Publication:
Copenhagen: Forlaget af 1939, n.d. (1942)
Collation:
Large format paperback [21.3 cm. (8⅜ in.) x 15.2 cm. (6 in.)]. Pp. 400; (1) half-title; (2) ORIGINAL TITEL; (3) title page; (4) publication data; 5-400 text.
Wraps:
White paper, spine and front panel on olive green background, lettering in black and white, red accents (see image above).
Spine: BRANCH | CABELL | JURGEN | [start device] | [at base of spine, book device]
Front panel: [in white on red square ground] BRANCH CABELL | JURGEN | [black, white, and red illustration of man in toga riding a centaur] | [at base of panel in white] FORLAGET AF 1939
Rear panel: [in decorative text] Amerikas Anatole France. | [photo of Mr. Cabell, 39-line biography in three paragraphs] | [at base of panel] ANDERSEN & PETERSEN, KØBENHAVN
Notes: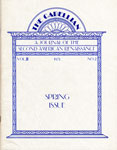 The cover and title page of this translation read forlaget af 1939, but both Hall and an article by Julius Rothman, published in The Cabellian, Vol. II No. 2, Spring 1971, state that the actual publication date was 1942. forlaget af 1939 (Publishing Company of 1939) is, as it turns out, simply the name of the publisher.
Rothman's article gives a fascinating account of the background of this particular issue. We're not going to repeat the whole story here, but it's definitely worth reading. We've reproduced the original article as an Adobe PDF file. Click on the picture at left to access it. You'll need to use the back button on your browser to return to The Silver Stallion.