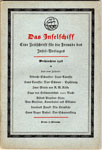 The Silver Stallion has been told that there was also a green cloth binding for this edition. We have not seen that binding, so we report it as possible but not confirmed.
UPDATE: In our recent visit to the James Branch Cabell Library at Virginia Commonwealth University, we were able to view a copy of this edition in the green binding, so we can now confirm that it does indeed exist. With luck, we will be able to post pictures soon.
The small magazine at left, Das Inselschiff: Eine Zeitschrift für die Freunde des Insel-Berlages [The Inselschiff: A Magazine for the Friends of Insel-Berlag], was a small self-promotional magazine produced irregularly by Insel-Berlag, the publishers of this translation of Jurgen. Insel-Berlag published excerpts of their current and future offerings in Das Inselschiff, hopefully enticing readers to buy the books they displayed. This issue, for Christmas 1928, includes Chapter 42 of Jurgen, "Kompromisse in himmel" ("Compromises in Heaven").