COMPILATION
Full Title:
Title page recto: Jurgen | [rule broken by the lower portion of the "g"] | [in italic] A Comedy of Justice | [rule] | By | James Branch Cabell | [in italic]"Of JURGEN eke they maken mencioun | That of an old wyf gat his youthe agoon, | And gat himselfe a shirte as bright as fyre | Wherein to jape, yet gat not his desire | In any countrie ne condicioun." | NEW YORK | ROBERT M. McBRIDE & CO. | 1919 (see image above).
Title page verso: Copyright, 1919, by | Robert M. McBride & Co. | [rule] | [in italic]Printed in | The United States of America | [rule] | Published August, 1919 (see image above).
Publication:
New York: Robert M. Mc Bride & Co., September, 1919
Collation:
Crown octavo [20 cm. (7⅞ in.) x 14 cm. (5½ in.)] ; pp. (viii) + 368; P. (i) half-title; (ii) [all enclosed in single rule box] Books by Mr. Cabell ; (iii) title-page; (iv) publication data; (v) dedication; (vi) three quotations attributed to Philip Borsdale, E. Noel Codman, and John Frederick Lewistam); (vii-viii) Contents; (1) Fly-title (verso blank); (3-5) text of A Foreword;(6) blank; (7) fly-title (verso blank); followed by text pp. 9-368.
Binding:
Red-brown cloth; top edge trimmed, otherwise uncut; gilt lettering and decorations on front cover and spine. Spine: Jurgen | [rule] | Cabell | McBride. Front cover: Jurgen | [within the lower portion of the "g"] James | Branch | Cabell (see image above).
Dedication:
TO | BURTON RASCOE; followed by dedication in acrostic verse of three quatrains (see image above).
Dust jacket:
White smooth coated paper (see image above).
Front panel in brown: Jurgen | [color illustration by Russel Crofoot enclosed in lower portion of "g"] | by | James Branch Cabell | [rule] | ROBERT M. McBRIDE & CO., Publishers | Union Square New York | [rule].
Spine in brown: [in italic] JURGEN | [device] | CABELL | $2.00 | NET | McBRIDE.
Rear panel in brown: [three paragraphs of advertising for Jurgen, all in italic] | [rule] | [in italic] Published by Robert M. McBride & Co., Union Square, | New York. Two Dollars Net. Postage 10 cents extra.
End flaps: blank
Note: The first copy of the dust jacket is an issued one, original to the copy of Jurgen shown here. The second copy is a proof, as noted in Mr. Cabell's hand at the top of the front panel. It is part of his personal collection, and is located in the Cabell Room in the James Branch Cabell Library, Virginia Commonwealth University.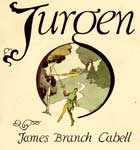 Fifteen hundred copies of the first printing were issued in September, 1919 (not August as stated in the verso of the title page). The second printing (Jur-A2, issued November , 1919) is textually identical and has the same printed August publication date. Because of this, it is almost universally referred to in the trade as the "second state" of the first printing, but all previous bibliographers agree it is actually a separate second printing. The two printings can be distinguished by the width of the binding [~3.5 cm. (1 3/8-in.) in the first binding, ~4.1 cm. (1 5/8-in.) in the second], and by the broken rule at the top of p. 144 in the second printing (it is intact in the first). Most of the copies of the first printing were issued in brown B cloth, although a few have been noted in brown FL cloth (see the discussion on cloth types in the Notes section on the page for the variant binding, *Jur-A1b).
Alice Campbell, Digital Outreach and Special Projects Librarian at Virginia Commonwealth University and long-time supporter of The Silver Stallion, recently asked us for information about Russel Crofoot, the artist who painted the dust jacket for the first printing of Jurgen. We quickly realized that we knew next-to-nothing at all about him. Luckily Douglas Anderson came to our rescue (once again). Doug is a well-known science fiction/fantasy scholar, anthologist and co-author of the literary blog Wormwoodiana.* He informed us that, as well as being a jacket artist, Mr. Crofoot was also Treasurer of the Robert M. McBride Company - truly a man of varied talents! In response to Alice's question, Doug added a short note about Russel Crofoot to his blog at Wormwoodiana: Russel Crofoot and Jurgen. It's definitely worth a read, as is his entire blog.
*Douglas Anderson's main blog is Tolkien and Fantasy. Wormwoodiana is one of his several "occasional" blogs.