The Silver Stallion
James Branch Cabell : An Illustrated Bibliography
THE JUDGING OF JURGEN
| | |
| --- | --- |
| James Hall Code | Description |
| JoJ-A1 | |
| JoJ-A1a | Large Paper Edition 1920 |
| JoJ-A1b | |
Notes on the Text:
The text is a reprint of a short piece originally published in the New York Tribune, February 8, 1920, Brewer No. 163.
The Judging of Jurgen was reprinted in Jurgen and the Censor (Hall A4, 1920), and was added to the Kalki editions of Jurgen as a Foreward from the eighth printing (1922) onwards. It was incorporated into the text of the novel in the English editions (1921 onwards), and in the Storisende (Jur-E1 (S), 1928) and Red Storisende (Jur-E2 (RS), 1932) editions.
Notes on the Large Paper and Clothbound Editions: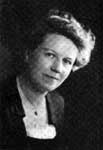 The copies of The Judging of Jurgen in boards were hand-bound by the remarkable Flora Warren Seymour (1888-1948), founder and executive head of The Order of the Bookfellows. Seymour was one of those renaissance individuals who seemed to be able to do everything: she was one of the first women lawyers licensed to practice before the United States Supreme Court, and she was the founder of The Bookfellows and editor of their magazine, The Step Ladder. Seymour was passionate about Native American affairs: she served with the Indian Service for several years before being appointed the first woman member of the Board of Indian Commissioners. She was also a well-respected author whose works include, among others, William De Morgan, a Post-Victorian Realist (1921); What Do We Mean by Indian? (1924); The Indians Today (1926); Songs from The Step Ladder (1927); The Story of the Red Man (1929); Meriwether Lewis, Trail Blazer (1937); La Salle, Explorer of Our Midland Empire (1939); and Indian Agents of the Old Frontier (1941). She is best remembered today for her last major work, Bird Girl: Sacagawea (1945), a biography of the Shoshone woman who assisted Lewis and Clark in their travels during the winter of 1804-05.
Her binding work on The Judging of Jurgen is not, we have to admit, of professional quality, but it is a fine effort by an accomplished amateur. Click on the photo at left to be taken to a short biography of Mrs. Seymour that originally appeared in Social Progress, Vol. VII No. 9, September 1923. This article is presented as a PDF. You'll need to use your browser's back button to return to The Silver Stallion after accessing it.