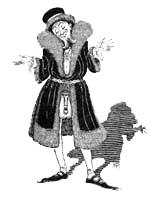 Supplemental Material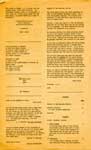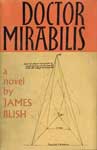 Dr. Mirabilis, by James Blish, is a historical novel about Roger Bacon, originally published in England by Faber & Faber (1964), and is the first volume in his After Such Knowledge trilogy. Blish was at first unable to find a US publisher for this title. In order to preserve the American copyright, he self-published at least 250 copies* of the novel in 1968, mimeographed in black by Null-Q Press on double sided legal (8½ x 14 in.) paper from a typed original, stapled at upper left.
According to an entry in the From the Third Window column in Kalki, Vol. III, No. 4, whole number 12 (Fall 1969), p. 151, copies of this edition were sent to Kalki subscribers, free of charge, in 1968, with the remaining copies available for general sale. The entry goes on to say that there remained at that time only 16 copies in stock, and that those were available at a cost of $5.00 or £2/2/0 per copy. In the same column in Kalki, Vol. IV, No. 2, whole number 14 (1970), p. 74, there is a note stating that this edition of Dr. Mirabilis is now sold out.
The dust jacket from the English 1st edition is shown at right.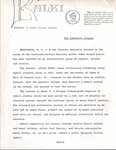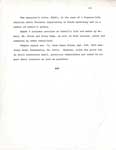 Although undated and unsigned, the content makes it clear that this press release in the form of a letter was written in 1967, probably by James Blish. It announced the transition of Kalki from a mimeographed fanzine to a lithographed quarterly magazine with the publication of Vol. II No. 1, whole number 5 (1967). The letter includes a distinguished list of future contributors as well as descriptions of upcoming articles. Finally, it includes a price and subscription information.
Cabell in English Paperback: The announcement at left, written by James Blish, was inserted in Kalki, Vol. IV No. 1, Whole No. 13, Winter 1969, as a letter-sized (8½ x 11-inch) folded broadside. It discusses the Society's efforts to get Cabell reprinted in Great Britain, and announces that Tandem Books will publish Jurgen, Figures of Earth, and The Silver Stallion "within the year". Tandem did in fact publish these three Cabell titles in 1971, all with new introductions by James Blish: Jurgen Jur-L1 (w), Figures of Earth FoE-G1 (w), and The Silver Stallion SS-G1 (w). The three titles appear to have been issued more-or-less simultaneously.
Introducing James Branch Cabell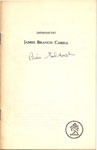 This 1970 publication of the James Branch Cabell Society, Hall E20,was included with subscribers' copies of Kalki, Vol. IV, No. 2, whole number 14 (1970). As noted in the From the Third Window column of that issue (p. 73), additional copies were available at 25¢ in the US or 2/- in the UK, with a reduced price for bulk orders. The 16 page booklet includes a new Preface: Cabell and Kalki by James Blish and William Leigh Godshalk. It also prints The Man at Storisende: A Biographical Note, by Jerry Page, and The Biography of Manuel: A Brief Bibliography, by James N. Hall, both of which were revised from the originals published in Kalki, Vol. I No. 2, whole number 2 (1965). It also reprints A Manual of Non-Manuels: A Further Bibliography, by Paul Spencer, which originally appeared in Kalki, Vol. II No. 2, whole number 6 (1968).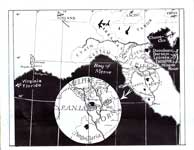 The Geography of Dream (Hall G11) is a Cabellian map drawn by Judith Ann Lawrence. This map extends the previous maps of Poictesme to include the locations mentioned in The Way of Ecben, The Nightmare Has Triplets trilogy (Smirt, Smith, and Smire), and The King was in his Counting House. It appeared in Kalki, Vol. IV, No. 3, whole number 15 (1970), accompanied by an introduction by William Atheling and Judith Ann Lawrence. We have included it here because The Silver Stallion has acquired, from the estate of Kalki editor Paul Spencer, several unfolded and unbound copies of this map . We do not know if these were ever distributed as broadsides, but we are including it here on the off chance that it was, and with the hope that some reader may be able to supply us with more information.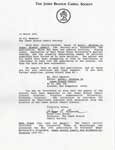 This letter from Kalki Assistant Editor Dorys Crow Grover, dated 31 March 1993, was sent to all members of The James Branch Cabell Society. It announces that the society will discontinue publication of Kalki following the publication of its 37th issue. It also states that the Society's papers have been deposited in the James Branch Cabell Library archives at VCU.