Binding:
Small 16mo, ~6 ¾ in. x 4 in. Red, blue and gold harlequin patterned paper over thin flexible boards; white paper label with red lettering on front cover, all untrimmed. Front cover: [in red] PARIS | HOPE MIRRLEES (see image above).
Note: The paper used for the binding was also used by The Hogarth Press for the endpapers on the first printing of Virginia Woolf's third novel, Jacob's Room.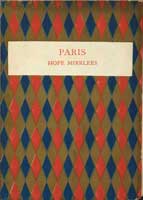 Printed and bound by Leonard and Virginia Woolf at The Hogarth Press in an edition of 175 copies. There are a number of printing errors; in 160 of the copies VW hand corrected some of these in pencil before issue. The example shown here has hand corrections on pp. 3 and (22).
The poem is today regarded as an early example of avante garde and modernist poetry , and is often claimed as a particular precursor to T.S. Eliot's "The Waste Land" (1921). Mirrlees and Eliot were close friends, but there is no solid documentary evidence that Eliot ever read Paris. What is clear, though, is that both works are rooted in the modernist movement.
Because the typography and visual appearance of the poem are integral to its meaning, I think it is important to view the work in its original form, and it is in the public domain. Click on the image at left to access a PDF of an original copy of this work. As usual, you'll need to use your browser's BACK button to return after accessing it.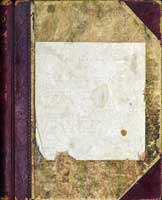 This is an excerpt from Leaonard Woolf's handwritten ledger book for the Hogarth Press, 1920-22, listing the original purchaser, sales date, and price for each copy of Paris. HM recceived the first copy on April 25, 1920. The list of those who bought the poem makes interesting reading, and it's worthwhile to note that Eliot's name is NOT on the list.