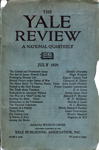 The Art of James Branch Cabell originally appeared as a longish essay in The Yale Review, A National Quarterly, for July, 1920, pp. 684 - 698. While we haven't done a word-for-word collation, a reasonably careful review did not find any changes between the original essay and the text as it was published by McBride. The complete text as originally presented in The Yale Review is available at left as a PDF.
In the first McBride printing, an appendix, "Books by Mr. Cabell", has been included, and Cabell's poem "The Toy Maker", added as a colophon.
In the second McBride printing, the appendix has been updated. "The Toy Maker" has been relocated to page (18) and replaced as a colophon by a reproduction of a manuscript page from Jurgen.