James Branch Cabell : An Illustrated Bibliography
Cabell's Contributions to Periodicals: Original Material
RED BOOK MAGAZINE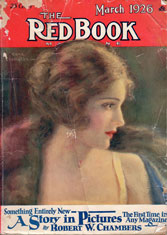 | | | | | |
| --- | --- | --- | --- | --- |
| Brewer Code | Contribution Title | Periodical Date | Book Inclusion | Notes |
| No. 125 | | July, 1909 | | |
| No. 212 | Prince Fribble's Burial | May, 1911 | | |
| No. 270 | | November, 1925 | | |
| No. 148 | | March, 1926 | | |
| No. 100 | Coth at Porutsa | May, 1926 | | |
Notes:
In accordance with Cabell's principal of literary economy and his skill at recycling his literary output, many if not most of his short works were later adapted and re-used in later publications. The "Book Inclusion" column lists the later work in which the item re-appeared.
It is our intention to eventually reproduce all of these stories and articles in their original form, as we are able to acquire copies suitable for reproduction. The longer items will be presented as PDF files. After accessing these, you will need to use your browser's "back" button to return to The Silver Stallion.
Notes for A Fordyce of Westbrook:
FoW 1. We haven't yet located a copy of the July, 1909, Red Book. We did find, though, a copy of this story, reprinted in the "Women's and Girls'" section of The San Francisco Call for February 19, 1911. Interestingly, this paper claims that Fordyce is "by the author of 'The Quest'". However, this is almost certainly not a lost Cabell work but an error for a book [and/or story] of that name by Justus Miles Forman, a friend of Cabell's who wrote 'social' stories very similar to Cabell's earliest Lichfield stories. Like Cabell, Foreman was published by Harpers and other popular magazines of the day.  Forman died on the Lusitania and is now almost completely forgotten, although he was very popular while alive.  In Cords of Vanity, one of the women is reading a Forman novel.
Without an original to compare to our reprint, we at The Silver Stallion can't be certain that the version we are reproducing is identical to the original. It's the best we have, though, until some reader is able to supply us with a copy of the story from the original magazine.