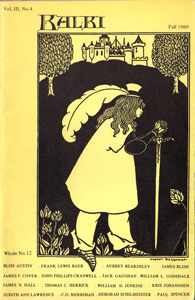 Kalki was one of two Cabell studies journals founded in the second half of the 1960s, the other being The Cabellian.  The first Kalki, edited by James N. Hall, was issued in July 1965 by The Fellowship of the Silver Stallion, and was little more than a mimeographed fanzine.  During 1967-68 the Fellowship was renamed The James Branch Cabell Society, well-known science fiction writer James Blish joined Hall as Managing Editor, and with the fifth issue Kalki's format was upgraded to a staple-bound journal and began to appear quarterly. Hall was soon kicked upstairs to become the President of the Society and begin work on his monumental James Branch Cabell: A Complete Bibliography (1974). William L. Godshalk joined as co-editor after Blish's move to England in 1969 and in 1971 became sole editor, with Blish as "editorial advisor." In 1973-75 Kalki was cut back to twice yearly. In 1975 Blish died, and Godshalk handed the editorial reins over to longtime Cabell Society secretary Paul Spencer. After 1975 Kalki appeared every year or two, Spencer producing twelve more issues (through No. 37) between 1976 and 1993, with the assistance of associate editors Godshalk and William D. Jenkins (1975-1980), and Dorys Crow Grover and Harlan Umansky (1983-1993). (In 1980 the editorship had passed nominally to Cabell collector Thomas Head; but when after several years Head failed to produce a single issue, Spencer resumed the editorship in 1983).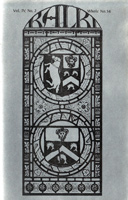 Kalki was a High Place to which fans, scholars and collectors brought a variety of burnt offerings. In its 28 years Kalki published hundreds of articles and notes on a wide variety of Cabellian subjects. It was decorated with rare photos of Cabell, and with artists' interpretations of scenes from his books. It reprinted out-of-print texts by and about Cabell. It hosted regular features such as "From the Third Window" (editorials), "Jurgen's Pawnshop" (books for sale), "The Economist" (book reviews), "Source Notes", "Bibliographical Notes", "The Anagram Game", "Trifles Found by Twilight" (references and trivia). Its letters column, "The View from Mispec Moor", boasted such names as Poul Anderson, Martin Gardner, Margaret Freeman Cabell, Edmund Wilson, Desmond Tarrant, Lin Carter, Nelson Bond, Roger Zelazny, Joe Lee Davis, Louis D Rubin Jr, Stuart Gilbert, Robert Lowndes, Warren A. McNeill, Roy A. Squires, G. N. Gabbard. John Boardman, Thomas Horan, Conway Zirkle, and others.
It was been twenty years now since Kalki galloped down into the haze of Antan; but now we have another Silver Stallion on which to mount our appreciation of James Branch Cabell. So we are borrowing a few leaves from Kalki's back issues – think of us as an eternal 38th issue of Kalki.  We have put up the first part of a detailed Table of Contents (the rest is forthcoming) and we have begun our program of reprinting interesting notes, articles, and other features from the original run in From the Kalki Archives. And as a special bonus we have arranged to interview two veteran Cabellians, former Kalki editors William L. Godshalk and Paul Spencer (see below). And who knows, we may even get around to reprinting some pieces from The Cabellian...