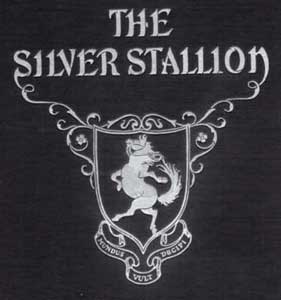 Welcome to the Silver Stallion
The Silver Stallion: The James Branch Cabell Website

The Happy Ending
True Thomas lay on Huntlie Bank,
A ferlie he spied wi' his eye
And there he saw a lady bright,
Come riding down by Eildon Tree.
-from Thomas the Rhymer, Ballad No. 37, collected by Francis J. Child
Our story for March, 2019, is "The Happy Ending," Brewer No. 132, which first appeared in the issue of The New York Herald-Tribune Magazine for January 24, 1932. This story was incorporated into These Restless Heads as "Epilogue of True Thomas by Moonlight," chapter 38, "The Happy Ending," pp. 233-237. This month's story is a very Cabellian re-imagining of the tale of medieval prophet Thomas of Ercildoune. This 13th century legend has been recounted many times, most famously as number 37 of the Child Ballads, and as it happens Child's version is a personal favorite of this writer (Thorne). Click on the link above to hear it performed by Scottish folksinger Ewan MacColl.
Recently, Silver Stallion editor Bill Lloyd was lucky enough to acquire an original copy of this bit of Cabell ephemera, which neither of us had previously seen in its first printing. The lovely Victorian-style illustration is by Ninon MacKnight (1908-2000). Born in Australia, she lived and published mostly in the US, where she was primarily considered an illustrator of children's books.
These Restless Heads, published in February, 1932, was the first of Mr. Cabell's works to be published as by "Branch Cabell," the truncated version of his name intended to mark the transition between The Biography of Manuel and his later works. This story, published in late January, includes a short sidebar on page 2 titled "James Branch Cabell Cuts His Name," noting that "The Happy Ending" is the first Cabell publication to be printed under his new name.
Click on the cover image below to access this story in its original form.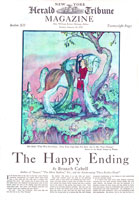 Our aim at The Silver Stallion is to provide an on-line meeting place for scholars, fans and collectors of the work of James Branch Cabell (1879-1958).  Cabell has been many things to many people: a crafter of magazine stories, a purveyor of ribald fantasies, a polemical belle-lettrist, a historical novelist, and a derided has-been; a constructor of dream-narratives, a revisionist historian, a memoirist; and a collector's dream -- and after his death a Southern allegorist, an also-ran Tolkien, and a literary suicide. He was brilliant and infuriating, versatile and repetitive, courtly and waspish,  eloquent and grandiloquent. On our website you'll find reflections of all these aspects of Cabell -- and more...  We offer reviews and essays, notes and queries; and a discussion group (Cabell's sources? Cabell's anagrams? Cabell's heirs? -- lets talk!) We've compiled a list of dozens of links to other Cabell and Cabell-related material on the internet.  We have pictures and biographical material. We plan to reprint choice pieces from the archives of the classic Cabell journals "Kalki" and "The Cabellian." And the crown jewels of The Silver Stallion are our series of Cabell bibliographies (still under construction, as, at the moment, is the whole site), profusely illustrated with hundreds of images, both rare and common, with comments on each book, including collecting 'points'.  Which Cabell do you favor? He's in here somewhere...
The Silver Stallion is a collaborative effort that depends heavily on the comments and contributions of our readers. We want and need your input. If you have information, photographs, or other data that you'd like to share, or if you have comments, questions or suggestions, please contact us at Webmaster.