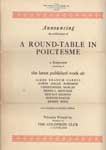 A prospectus for A Round Table in Poictesme. The complete prospectus is presented here in PDF format. As usual, you will need to use your browser's BACK button to return to The Silver Stallion after accessing it.
The Author of the Eagle's Shadow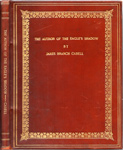 Shown here is what appears to be a carbon copy of the typescript for James Branch Cabell's contribution to A Round Table in Poictesme, "The Author of the Eagle's Shadow." While it is clearly not the typescript itself, it does appear to be typed, rather than otherwise reproduced from another document. The paper itself is unusual, a fine quality art vellum, not the type of paper one would expect an author to use in making a carbon copy.
This typescript consists of seven single-sided, previously folded pages, and includes numerous typed changes to the original text. It has been bound into a brown leather art book folio, printed in gilt on the cover and spine, with marbleized end-papers. Approximately forty sheets of plain book paper follow the text. The page size is approximately 10 ½ x 8 inches, perhaps trimmed from 11 x 8 ½ letter size when it was bound. The narrow margins on the bottom and right edges support this possibility. The piece is from the collection of Don Bregenzer, one of the editors of A Round Table in Poictesme.
The item is inscribed in Cabell's hand, "Done for Don Bregenzer, January 1924, by James Branch Cabell" (the inscription is original, inked directly onto the sheet). This predates the publication date of March, 1924, for A Round Table. The inscription itself may be a clue to the unusual paper. Perhaps Bregenzer had requested a personal copy of the manuscript from Mr. Cabell, and he had obliged by providing him one on fine paper?